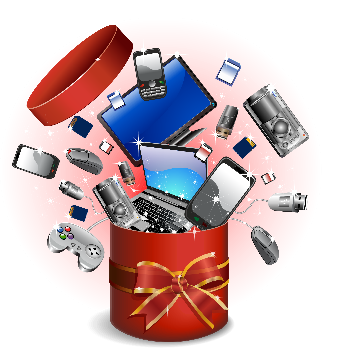 At 5K Technical Services we like tech, it's what we do. As the holiday shopping season kicks into overdrive, we are bringing you 12 of the most requested, most wanted tech gifts for 2017 and why you should check them out!
1. The Apple iPhone X
There's little denying that this year's "must have" tech item must be the new iPhone X from Apple. The iPhone X (pronounced "ten") arrives during the tenth anniversary of the original iPhone back in 2007. Apple has released their iPhone 8 this year as well, but the big dog here is the iPhone X. Sporting a 5.8-inch, OLED super retina HD display, the screen is capable of 4K video up to 60 frames per second, stunning colors, true blacks, and a 1,000,000 to 1 contrast ratio. It's the largest iPhone screen to date. It sports dual 12 MP cameras that use facial recognition to unlock your phone. The phone is water and dust resistant and covered front and back in the most durable glass in a smartphone. If all this sounds like your cup of tea, prepare to empty the bank to get one. The 64 GB model will run you $1,000 while the 256 GB model goes for $1,150. It comes in both silver and space gray. All Apple stores, carriers, and retailers have limited stock with several not shipping until mid-December. It's best to get your order in as early as possible.
2. Microsoft Xbox One X
If you're a gamer, especially a console gamer, you've no doubt heard of or are watching the Xbox One X. Microsoft has taken its flagship console, the Xbox One, and turned it up a few notches. Sporting 40% more power than any other console on the market and a 6 teraflop GPU (that's crazy fast), it's able to produce true 4K visuals. The new Xbox comes equipped with a 4K Blu-ray disc drive (only console that has this), 4K DVR and 4K streaming, fastest load times of any console on the market, and is compatible with all of your Xbox One games and accessories. The Xbox One X comes with a 1TB hard drive and retails for $499.99 and is in stock at most retailers but you might want to check availability before driving down to your local retailer.
3. Sony Alpha 6000
Digital photography is becoming easier to do with your smartphone, some phone cameras even rivaling some of the lower end cameras. But for those purists out there, it's tough to beat the value you get with the Sony Alpha 6000. The camera is a mirrorless design with interchangeable lenses and takes photos at 24 mega pixels, that's double what the iPhone X offers. The body design is the perfect size for the average human, not too small nor too large. It fits just right in your hand. It offers fast, continuous shooting (up to 11 frames per second) all while maintaining autofocus and auto exposure, and is sports a quicker autofocus than the leading DSLR camera. The A6000 also shoots video in 1080p and comes equipped with HDMI output. A great camera for the price, you can snag one with a 16-50mm lens for around $550. More lenses are available but will quickly run up the price.
4. Google Home Mini
Google has been hitting the market over the past year with their own devices to rival their competition in tech market. One of these innovations is the Google Home Mini. The Mini is considerably smaller than their standard Google Home device ($129) and sports a smaller price tag accordingly. The Mini is built with families in mind and works in conjunction with Chromecast to control your TV, stream movies, and send music to your speakers. You can also have the Google Mini play from the device itself. It recognizes your voice, so multiple users can access their own playlists, calendars, and more. It also features hands-free calling for those times when too busy to hold a phone to your ear. The mini can control your lights, thermostat, and more with a voice command, but those require external devices and/or apps. Overall, for only $49 it does a solid job of bringing your entertainment into the next generation without depleting your rainy-day fund.
5. Nintendo Switch
Nintendo knows how to get people excited, and excited they are to get the newest Nintendo console, the Nintendo Switch. The biggest draw might be the ability to play on your TV at home then remove it from its docking station and continue playing on the go as a handheld system. The console seamlessly transitions from one mode to the other, allowing you to take the game with you. Attached to your TV, the Switch docking station connects via HDMI and gives you true HD gameplay. The controller, the Joy-Con, separates into two controllers for multiplayer or the two can be attached to the sides of the console for gaming on the go. The Switch comes with a tiny 32GB of internal storage, but that can be easily upgraded to 2TB with a micro SD card. Unlike previous Nintendo consoles, or even the Xbox and PlayStation, the Switch doesn't use discs. Instead, it uses small cartridges, like the games on the 3DS handheld system. At only $299.99 it's an affordable piece of hardware with a unique array of software already available for it. It doesn't play DVDs or Blu-rays, but it makes up for it with fun and exciting games such as The Legend of Zelda: Breath of the Wild and Super Mario Odyssey. Nintendo has said that they are doubling their production on the Switch, so it should be in ample supply this holiday.
6. Samsung Q7F 4K TV
You've purchased the new Xbox One X or a PS4 Pro, and now you can't wait to get gaming. Or maybe the console purchase was for a spouse and/or child. Sure, your run-of-the-mill HDMI capable TV that adorns your living room will connect. But you didn't get all that new and great 4K power just to force it onto a standard high definition television, did you? Of course not. You have 4K now, so that demands a great 4K experience. The folks over at Samsung hear you and have just the screen in mind. The Samsung Q7F is the perfect TV for your 4K movies or games. It's great for media consumption, with four HDMI ports and three USB ports. These can be used individually, or you can connect all your devices to the Samsung One Connect Box, which acts as a hub for HDMI connections and feeds into the TV via a single cable. Super convenient when you have multiple systems. Recommended by the folks over at Xbox, this premium screen will run you minimum $2,800 for the 55" model and as high as $6,000 for the 75" version. Available at most retailers, the best deals are usually hiding on the store's website.
7. Microsoft Surface Book 2
Microsoft's thin laptop/tablet hybrid two-in-one PC arrived on the market a couple of years ago and became an instant must-have item. This year's models are no different. The 13-inch model comes in several variations of hard drive space and RAM, and starts at $1499. Joining the fray is a 15-inch version with just as many memory options, but starts out at a hefty $2500. The biggest difference between the two (aside from screen size) is the video graphics card in each one. The 15-inch is equipped with a more powerful video memory card, allowing it to act as a mobile gaming machine. Whether you're playing Gears of War 4 or Cup Head, the machine isn't likely to lag or slow down. Both models come with detachable screen, USB-C port, 17 hours of battery life, SD card reader, and offer touch screen with surface pen support. The pen allows you to sketch, write, and compose easily with virtually no lag. Part tablet, part PC, and part gaming machine, the Surface Book 2 stands atop the laptop landscape this holiday season.
8. Samsung Galaxy Tab S3
The Samsung Galaxy Tab S3 has an all glass design with four speakers and a High Dynamic Range (HDR) ready display. HDR offers better contrast and a better color range than regular HD does, making this the tablet of choice for all your streaming needs. The speakers are positioned in the corners and the sound moves accordingly when the device is rotated. The tablet also comes packaged with a revamped Samsung S-Pen stylus. If you are one who enjoys taking notes on your tablet or prefer doing a lot with a pen, this stylus writes smooth and never has to be synced or charged. Besides writing, the S-Pen adds precision to coloring, drawing, and more. There's also an add-on keyboard ($130) for those who want to use theirs as a word processor or for using the internet. The Tab S3 uses a USB-C connection for fast charging, has a fingerprint sensor on the home button, and uses an all glass design, rather than aluminum like most tablets do. Unlike your iPhone, this tablet is equipped with a standard headphone jack, so that you can use your current headphones with it. The Tab S3 really shines when playing video. The screen is crisp and sharp, and the sound is loud and clear thanks to the four-speaker setup. It is the first and so far, the only, HDR-ready tablet on the market. If the sticker price doesn't give you pause ($599), then the Galaxy Tab S3 is the tablet to get this Christmas.
9. SanDisk Ultra Dual Drive USB Type-C
This USB drive has connectors for both USB-A and USB-C, to make it simpler for transferring data between computers and even some newer Android phones with USB-C. Laptops, Android phones, Macs, and PCs are all utilizing the USB-C connection. With this, there's no need to worry which type of flash drive you have. The Dual Drive comes in 16GB, 32GB, 64GB, 128GB, and 256GB sizes. The 32GB can be found for less than $20, while the bigger sizes will run you a bit more money.
10. Samsung Galaxy S8
If the new iPhone seems a bit pricey for you, don't worry. The Samsung Galaxy S8 and S8+ offer similar technology but with a cheaper price tag. Much like its competition, the S8 offers a 5.8-inch display, but unlike that other phone it curves around the edges of the phone producing the first true infinity screen on a smartphone. The phone does 4K video, has a 12MP rear camera (8MP on front), uses facial recognition to unlock, is water and dust resistant, and charges wirelessly. All features that the iPhone X sports. But unlike the iPhone, the S8 can expand its memory from 64GB to 256GB via memory cards, allows multiple windows so that you can multitask (text while watching a movie?), and contains a headphone jack. Also, you aren't restricted to one method of unlocking. There is also a fingerprint scanner and the use of a PIN. The biggest difference here is that the S8 comes in a bigger model, the Galaxy S8+ which has a 6.2-inch screen for only a few dollars more. Both versions make use of Samsung's new Bixby AI, their answer to Siri that learns from you and can do things like translate languages and point out landmarks when taking photos. The Samsung Galaxy S8 will run you $750 for 64GB (upgradeable to 256GB via memory card) while the S8+ runs $840. Both versions come in Arctic Silver, Orchid Gray, and Midnight Black.
11. TCL S405 4K HDR TV
If you're anything like most Americans, you want the latest and greatest tech but can't always afford it. TV's for instance. You want to experience this new 4K technology that everyone is talking about but there is no way you can afford $3,000 for a TV. Never fear, there is an alternative. The TCL S405 49" 4K HDR TV proves you don't need to break the bank to experience 4K. Offering similar picture quality and brightness to the Samsung Q7F, the TCL offers less levels of lag than the pricier Samsung and comes with Roku TV! You can play Gears of War 4 in 4K or stream Netflix in stunning 4K resolution. All this will run you $360 for the 49" model, and upwards of $800 for the 65". It doesn't sport a hub for your HDMI like the Samsung Q7F, but it does have three HDMI ports and a single USB on the rear side. Still, I'd gladly sacrifice a port or two if it meant saving thousands of dollars. Not only does it save you money, but now you have enough to get that new iPhone, right?
12. Sphero R2-D2 & BB-9E
In 2015 Sphero released their app-connected robot, BB-8, to tie-in with Star Wars the Force Awakens. Now, with this year's release of The Last Jedi, Sphero has done it again with two new droids, R2-D2 and BB-9E. R2, of course, moves on treads and can move sideways if wanted or he can bring out his third leg and use it to lean back and navigate tougher terrain like carpeting. R2's head turns, and he has plenty of lights and sounds from built-in speakers, something BB-8 didn't have. You can draw a path with your finger on the app and R2 will follow it. There's also a button to have R2 "flip out" so to speak, where he shakes and makes noise before falling over. Like its droid brothers, the BB-9E droid uses the same app as the other two and can be controlled via app or voice commands. The three droids are in scale with each other and 12-inch action figures. Sphero is planning add new ways for the droids to interact with each other and their surroundings. Right now, you can have them watch Rogue One or The Force Awakens, and the droids will react at certain points thanks to scripted points in the movies and the app listens for these cues to cause the droids reactions. If you've got a Star Wars fan on your list this Christmas, no doubt they've already got these little guys on their list. At just $180 for R2-D2 and $150 for BB-9E, they are affordable enough to get both…assuming you can find one. As is the case with most items on our list of Top 12 Tech Gifts, these droids are in short supply but revered by Star Wars fans all over.