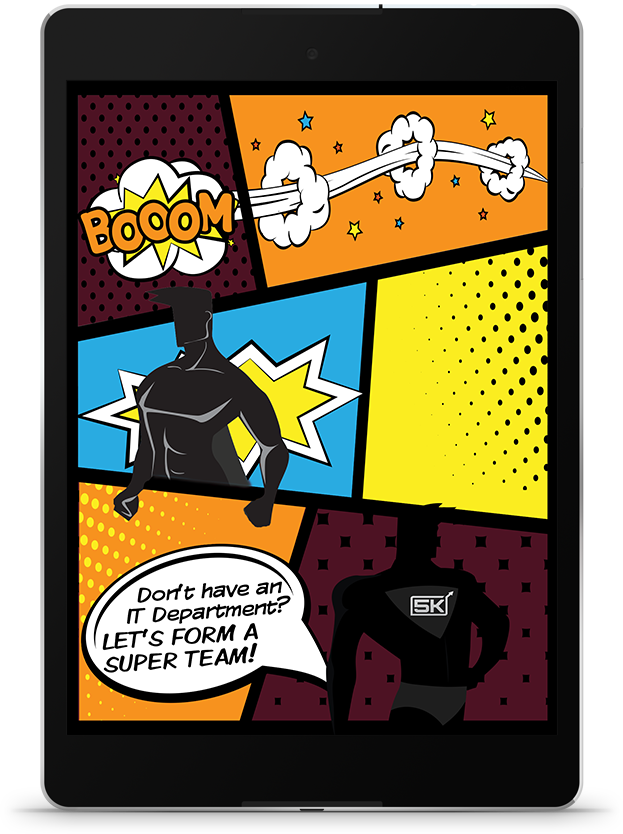 IT RESPONSIBILITY
IT is one of the jobs that can be a drain on your resources, money, and most of all, time—time you may not have. If you are a business professional responsible for IT and are looking for a trusted partner to take IT off of your hands, 5K can become your super team to handle all of your IT needs and save you time and money.
5K Technical Services has a robust cloud offering that can help your business successfully migrate to the cloud and pick options that satisfy your business needs and growth patterns.
Here are a few applications we offer and support:
Mobile Device Management
Email Encryption
Application for Legal Practices
Microsoft Share Point
Hosted Exchange
Web Hosting
Disaster Recovery
5K offers a wide range of managed IT services. You can begin by outsourcing small projects with us as your IT needs grow. For many businesses, we manage their entire IT infrastructure for one monthly fee. We call this 5K Client Care®.
Here are some of the services we offer:
Managed Servers
Manager Workstation
Managed VoIP
Managed Network
Managed Security
5K Technical services VoIP offers world class solutions that allow you to consolidate your data and voice networks so you can consolidate operating costs and save on your bottom line.
We offer the following:
IP Phone Systems
Bundled unlimited local and long-distance service
Unified messaging, including simultaneous ring on multiple phones
Complete transition and migration assistance from your existing phone system
5K Technical services understands that your business is constantly under attack. We offer a wide range of information security and compliance solutions for small businesses, including:
Email Protection
Email Archiving
Email Encryption
Web Filtering
Managed Firewall
Wireless Information Security
Reliable Backups