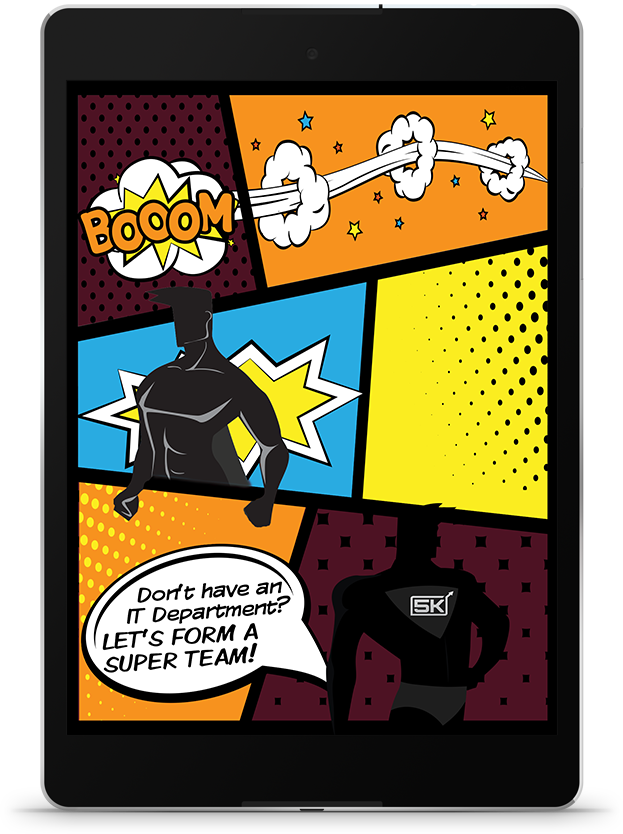 Need help solving tougher IT problems?
"My email doesn't work." "We can't see the internet". "I can't see any of my files".
If you're the person responsible for IT support in a small or medium business, you know it can be a nuisance. Problems always come at the worst time, and you can quickly get deep into subjects you don't know that well. Don't try to learn new technologies under duress - call 5K. We'll help you solve those problems quickly and prevent their return – and do it all on a budget you can afford.
Flip through the tabs to the right. We'll bet that one or more of these services could save a lot of time and trouble. If you don't see what you need, call us. We're always available.
5K can simplify your life with cloud services. Say goodbye to licensing and upgrades - we'll help pick the exact services you need to help your business grow on a budget, and make your life easier at the same time. Here are a few applications we offer and support:
Smart phone management, email and unified messaging
Email services like Hosted Exchange, anti-virus and encryption
Business applications for financial services, legal practices and churches
Microsoft Share Point
Web hosting, website maintenance and basic SEO services
Disaster Recovery planning
5K offers a wide range of managed IT services, from building your server closet to maintaining your entire network. Try us on a small project, you'll like us so much you'll want us to do more as your needs grow. Here are some of the services we offer:
Managed security, including firewalls, anti-spam, anti-virus, web access
Managed servers, including updates, data archiving
Managed workstations with software updates
Managed VoIP services for phone systems
5K Technical Services cloud-based VoIP offers world-class solutions to simplify your voice and data services. Great for smaller businesses, you can consolidate and lower operating costs and prevent headaches at the same time! We offer the following:
IP Phone Systems
Bundled unlimited local and long-distance service
Unified messaging, including simultaneous ring on multiple phones
Complete transition and migration assistance from your existing phone system
5K understands that your business is constantly under attack. We offer a wide range of information security and compliance solutions for small businesses, including:
Email archiving and encryption
Managed firewalls with web filtering
Wireless information security
Reliable data backups with disaster recovery plans