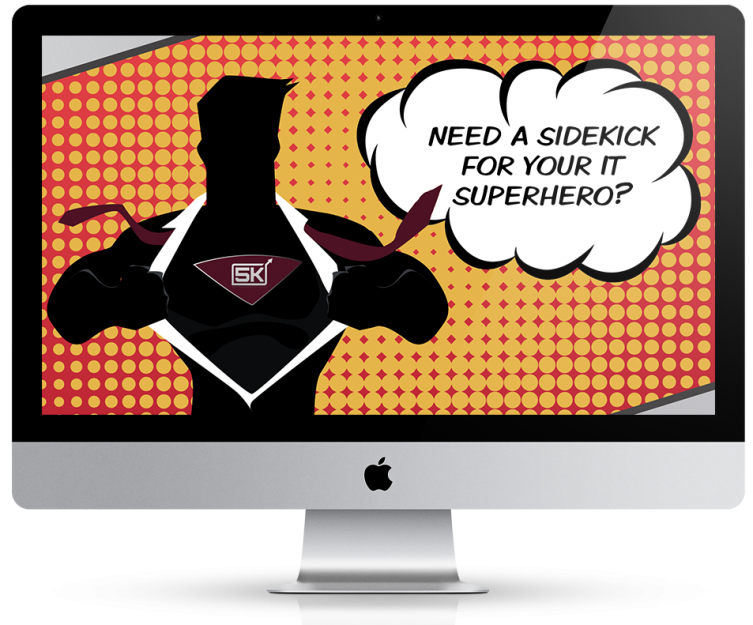 Need help getting IT projects done
and keeping systems up-to-date?
"We need stronger networks with more security". "We need to reduce telco expenses". "We need a better data backup and disaster recovery program".
You have the expertise and some of the resources, but still need help getting everything you want done. You're thinking about outsourcing certain IT support functions to a trusted partner so you can focus on moving your department and your technology forward to help complete projects on time, improve customer satisfaction and grow your business. Contact 5K. We'll give your "superhero" the help they need, be it on a special IT project or ongoing support so they can concentrate on other technical initiatives. We'll also help develop a strategic plan and ROI that you can sell up.
Look through the tabs to the right. We'll bet one or more of these services could get you the results you're looking for. If you don't see what you need, call us. We're always available.
5K Technical Services provides professional IT consulting for all of your needs – from assessment, design, implementation and ongoing support. Here are some of the services we offer:
Office moves, infrastructure upgrades (including HaaS and IaaS)
Technology roadmap, line-of-business application upgrades
Cloud transitioning
Project management
Disaster recovery and business continuity planning and testing
Audio-Visual systems consulting, design and construction
5K offers a wide range of managed IT services, from building your Ops Center to maintaining your entire network. Ask us for a no-obligation security or systems analysis to show you the value we can deliver. Here are some of the services we offer:
Here are some of the services we offer:
Managed security, including firewalls, anti-spam, anti-virus, web access
Managed servers, including updates, data archiving
Managed VoIP services for phone systems
5K Technical Services cloud-based VoIP offers scalable, world-class solutions to simplify your voice and data services, while consolidating and lowering operating costs! We offer the following:
IP phone systems
Unified messaging, including simultaneous ring on multiple phones
Complete transition and migration assistance from your existing phone system
5K understands that every business is constantly under attack, whether they feel the attack or not. We offer a wide range of enterprise-level information security and compliance solutions for businesses, including:
Email archiving and encryption
Managed firewalls with web filtering and device-level security
Wireless information security
Security and compliance testing, including user training and testing